A topographic route map for hiking the North Coast Trail to Cape Scott at the northwest tip of Vancouver Island, British Columbia, Canada
John Baldwin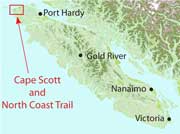 North Coast Trail describes coastal hiking routes in Cape Scott Provincial Park at the northwest tip of Vancouver Island, BC. The route is marked on a 1:50,000 scale topographic map and includes information on distances and hiking times, recommended campsites, tide cutoffs, sources of drinking water and noteworthy features.
Features:
customized topographic map
detailed hiking route
distances and hiking times
recommended campsites
bear proof food cache locations
tide cutoffs
sources of drinking water
1 km UTM grid lines
latitude and longitude
three-dimensional shaded relief
covers parts of 92L/12, 92L/13, 102I/9, and 102I/16
North Coast Trail is a customized topographic map based on the Canadian NTS Topographic maps and is printed on water-resistant/tearproof synthetic stock.