A topographic route map for hiking the Nootka Trail on the western shoreline of Nootka Island on the west coast of Vancouver Island, BC
John Baldwin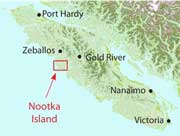 Nootka Island describes a coastal hiking route along the rugged western shoreline of Nootka Island on the west coast of Vancouver Island, BC. The Nootka Trail is marked on a 1:50,000 scale topographic map and includes information on distances and hiking times, recommended campsites, tide cutoffs, sources of drinking water and noteworthy features.
Features:
customized topographic map
detailed hiking route
distances and hiking times
recommended campsites
tide cutoffs
sources of drinking water
1 km UTM grid lines
latitude and longitude
three-dimensional shaded relief
covers parts of 92E/10 and 92E/15
Nootka Island is a customized topographic map based on the Canadian NTS Topographic maps and is printed on water-resistant/tearproof synthetic stock.